I am a big advocate of being a tourist in your own home; there is always more to do than you think! We seem to currently live in a world of FOMO (Fear of Missing Out). How many times have you sat at home on a Friday night flicking through your insta feed, looking at everyone else and had that feeling that they are all doing something and you're not? #FOMO :(
This is something that we all seem to be feeling way too much. So I have been inspired by Eventbrite to give you some ideas and motivation to go out more often! Eventbrite want people to stop with all the Netflix and Chillin' and instead to go out and do something. This way, not only are YOU getting out, but you're also not missing out! (Sorry to everyone obsessed with Stranger Things...)
It may now be September but it is warm here! So maybe summer can last a little longer...and in the spirit of that, why not spend your money on some quality time with your friends and family? This will come as no surprise to those that know me, but I love food. I eat a lot. (It's really something that needs to be seen to be believed...)
So I have put together a list of great eatery places in London that you need to go and try. As in, go and book them now and go asap. They are all different cuisines and types of food so should cover all likes and dislikes!
Image from www.crumpeats.files.wordpress.com
Pitt Cue - 1 Devonshire Square, EC2M 4YP
Boyf and I went here back in June and we have wanted to go back ever since. Honestly, this is one of the best meals I have ever had. The meat. Ohmyword. Mouth wateringly beautiful.
Cutter and Squidge - 20 Brewer St, W1F 0SJ
I ended up here by accident the other day, but everything in there is adorable and so different to your normal cupcake kind of place! I'm not even sure really how to describe their food, but it's bloody good! Expectations combinations between biscuits and cupcakes; what could be better?!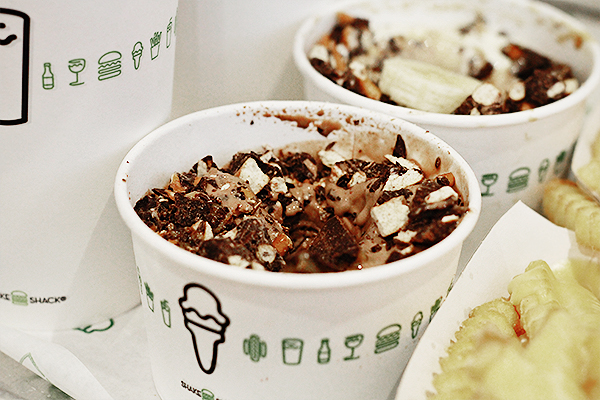 Image from www.lelalondon.com
Shake Shack - Covent Garden, Westfield Stratford City, Bloomsbury
I first went to a Shake Shack in Chicago and have since had to go to the London ones. Everything they have here is so good. It's like your typical fast food type place, but so much better. Their burgers are delicious and the shakes. Monthly specials; need I say more!?
The Brass Rail, Selfridges
Sadly, this lovely outlet in Selfridges no longer has the neon pink signs. The décor may have changed but the food is still just as good. It is a summer tradition in my house to go here at least once. Their salt beef is incredible; they have a selection of breads and mustards which is all cut and prepared as you ask for it. Not to mention you can get a whole pickle! This is a great place for a quick bite or for a bit bigger lunch.
Fire and Stone, 31/31 Maiden Lane, WC2E 7JS
This is a pizza restaurant with a bit of a twist; all of their pizzas are based (no pun intended) around cities. They have cities from all over the world and all of the flavours are inspired by them! It does make for some hard choosing though!
Hopefully this post has given you some ideas and motivated you to get out more often and to try some new eats!
Eventbrite also make it really easy to organise and plan events. You can check
them out here.
What are you going to do for #GOMO?
xoxo